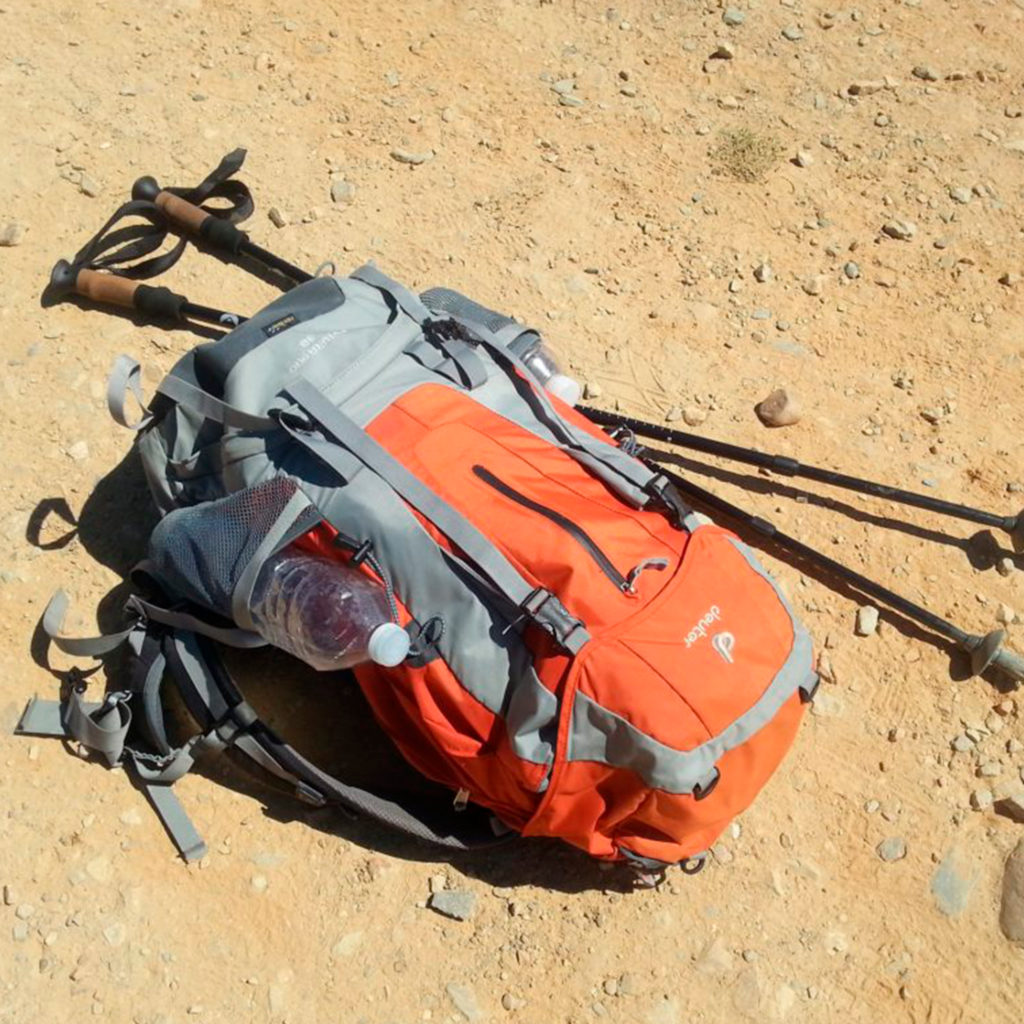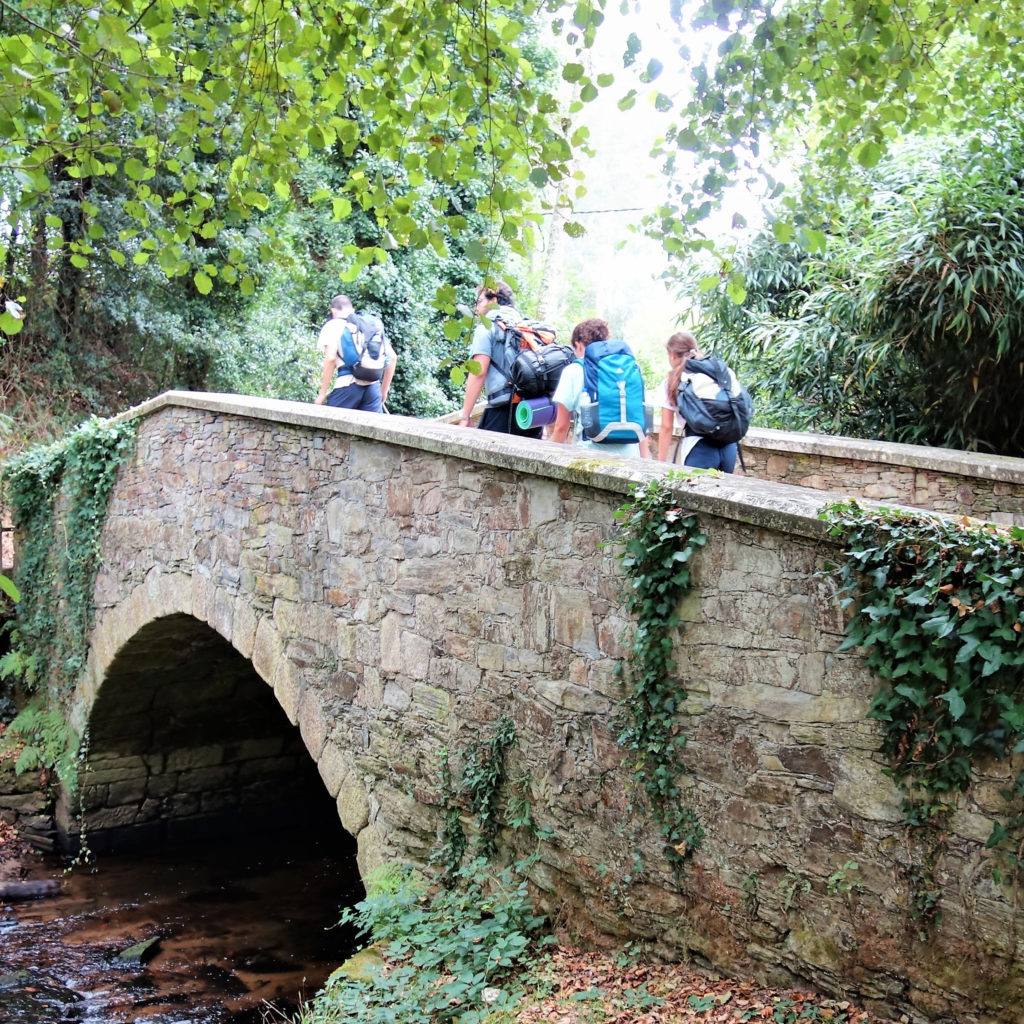 before the way
CHOOSING THE TIME OF THE YEAR
Choose the best moment for you if you can and/or you are a worker of the capitalistic system, more interested in fostering productivity than happiness. This is one of the reasons inhabitants of the southern hemisphere, or Koreans, are often forced to make the Way in winter. It is not always a terrible thing, but the possibility of the cold, snow or storms causing problems is certainly greater; and, in addition, you will have to carry more warm clothes, the days are very short, the clothes dry badly and most of the shelters will be closed.
At the other extreme is the summertime. It is the holiday period par excellence, and, as a rule, hot, causing some roads to be crowded, especially by students and public officials; this circumstance alters the atmosphere of peace and calmness that many seek. We could be then pursued by the queue syndrome when we want to get a place in a public hostel, eat a menu of the day or, let alone in Santiago, get to the cathedral.
What is left for us then? The intermediate seasons are undoubtedly the most recommendable in all senses, both in terms of the view of the surrounding landscape and the lower demand. May and September have already become high season months.
The time of year also has to be viewed against the climate you will encounter on the different roads. In the Iberian Peninsula, there are great climatic contrasts between the north, which is rainier; the Central Plateau, with a more continental climate (very cold and dry days in winter and hot days in summer); and the south, where temperatures can be very high between June and October. On the other hand, forecasts are failing badly lately given the increasingly contrasting effects of climate change. By this we mean that whatever you do, it is going to be a lottery game, and nothing is 100% guaranteed.
CHOOSING THE ITINERARY
There is a great deal of variety here. It is such that it is a bit crazy.
To begin with, we would advise you not to plan a Way of Saint James without considering Santiago de Compostela. This only would make sense if you were to divide the route into several sections due to lack of time. It has become fashionable to say you are going to do the Way of Saint James, but you just walk for a week along any route far from Galicia. This is one of the absurdities of the present. In France, there are thousands of people who walk only in their own country, all the way to the Pyrenees, carrying credentials and scallop shells in their backpacks. When you ask them if they are going to Santiago de Compostela, they say no, that maybe one day. Are they real pilgrims? We don't think so. They are just hikers disguised as pilgrims.
We don't like to act as if we ourselves were in a market and the client was free to choose what they like most. Among the paths that are signposted today, there are many paths that were never major pilgrim routes, but only old paths that some may have passed through at some point, variants, links or mere hypotheses with no scientific basis.
We always recommend that on the first occasion you take the French Way, the Santiago route par excellence, the best documented, best equipped with services and with a Jacobean atmosphere in every sense—a route, moreover, in which the learning phases are well marked in its permanent march towards the West.
Other major long-distance historical routes are the Northern Way, with its various links to the French Way (from the San Adrián Tunnel, from San Salvador, etc.), the Vía de la Plata Way or the Central Portuguese Way, all with their branches. Several well-documented routes converge along the French Way, such as the Catalan and the Ebro routes, the Madrid route, which was not so important historically, or the Baztan route, which is also less important. From the Mediterranean, towards the Vía de la Plata, other routes come, such as the Levante, the Lana or the Mozarabic routes, starting in the different Andalusian capitals, as well as other minor links, but they are not, or never have been, multitudinous routes. In the middle distance, there is the Primitive Way, undoubtedly the oldest and most mountainous, or the Winter Way, starting in Ponferrada; in the short distance, there is the English Way, shortened today without the corresponding navigation in the sea. This was the route used by pilgrims arriving by sea from different countries in Northern and Central Europe.
PLANNING THE LENGTH OF THE EXPERIENCE
Depending on the time available, you will have to choose the starting point by calculating the average distance you plan to cover in each stage (between the 20–30 km range). If you have a week, excluding the round-trips to the starting point, which sometimes take longer than they should, you will be able to walk a route of approximately 120 and 180 km, leaving one day to visit Santiago; if you have half a month, you will be able to walk between 300 and 400 km, a half-distance route; and, if you are lucky enough to have a month or more, you will be able to complete the long-distance routes, between 600 and 900 km—that is, the Portuguese Way from Lisbon, the French Way or the Northern Way from the French border, and, with a few more days, the Vía de la Plata from Seville.
If you want to continue to Fisterra and/or Muxía, as is the secular tradition, you have to allow four more days.
In short, if you want to complete the full path in a week (this is obviously a recent generally-accepted standard), you can choose the English Way, and, in half a month, the Primitive Way or the Winter Way. Another option is to divide the long paths into segments: from O Cebreiro, you would need a week to do the French Way, from Sahagún or León, two weeks, and so on.
Our advice: the more time you spend on the Way the better, because ultimately you will wish it would never end.
ON FOOT OR BY BICYCLE?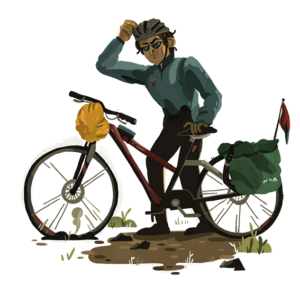 This question is easy to answer: certainly, on foot. This is not a personal or impulsive answer, but a consensus that comes from practice. The days when bikers accounted for more than 25% of pilgrims are far behind us. In 2019, the figure had fallen both in absolute numbers and as a percentage to 5.6%.
Anyone who wants to get out on the Way by bike will discover that the experience can be very different. You go too fast; the sporting aspect is greater; you do not interact with other companions on a daily basis; the initial intention to follow the same route as the walkers is usually altered; in public hostels, those who arrive on foot take precedence; and, the danger is greater due to the speed and traffic. Moreover, given the difficult coexistence of both modalities on many stretches, more and more routes are being created just for cyclists. It is even planned to close some stretches for two-wheelers, especially in Galicia, where a deterrent EuroVelo is being established.
It is not an accident that our website is called ANDANTES, because we are convinced, having tried both modalities several times, that the real pilgrimage must be made on foot. However, by bicycle, you will have much more time for tourist activities and moving around.
ALONE OR ACCOMPANIED?
This is a dilemma which many people face, especially first-timers. Once you know the Way, there is no need to question that. In the season from May to the beginning of November, and even outside these dates in the busiest itineraries, there are always people on the route. It is extremely easy to get along with other walking companions, in pairs or small groups. However, anyone who wants to walk alone for part or all of the day is always respected. Therefore, there is no need to look for someone who shares your passion before departure to feel safer or accompanied, because even among family or friends, problems can arise during such an intense coexistence.
It is said, half-jokingly, that for couples with the intention of formalising their relationship by moving in together or getting married, there is no better test of fire than the long Way of Saint James. If they pass the test, their future is guaranteed.
Therefore, don't make a desperate effort to convince someone to go with you unless they are already certain they want to do it, and don't send desperate messages through social networks indicating your dates. It is much safer to get together with likeminded people en route, and you will be surprised to find that most pilgrims are very likeminded.
Naturally, you can undertake the journey as a couple, with your family, with children or a group of friends, but the best way to enjoy the experience is alone. It is a recipe for breaking away from ordinary routines of all kinds, and for opening up to others, a fundamental part of the experience.
Of little use on the Camino are organised trips, those excursions grouped together behind a flag. Nothing is further from the idea of a pilgrim than the flock, where everything is handed to you, no matter how many qualified guides lead you or accompany you. This is nothing more than the conventional tourism provided by agencies transferred to the Way and, unlike other destinations, here, this modality, it does not fit. You will return having learned practically nothing.
WITH MY PET?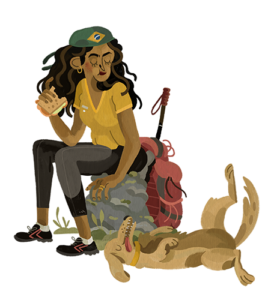 Needless to say, you will be able to make the journey with your pets. Our point of view is that only dogs are feasible. However, pets will make your life a little more difficult.
To begin with, you will have to have your documentation in order. The pets must be vaccinated and have an up-to-date booklet; they must be on a leash and, in the case of species recognised as being dangerous, wear a muzzle and a tick and flea collar. Although you may be used to going out with your friend in the park or the countryside, on the Camino, there are many small towns with loose dogs, as well as cattle or hunting areas, with animals that are untethered and sometimes aggressive.
However, the main problem will be accommodation. The list will be reduced by having to select those that admit pets, and almost never in shared dormitories, but only in patios or gardens, where perhaps barking will be bothersome. Nor are dogs always admitted in other types of accommodation, even if they are private rooms, a circumstance that will undoubtedly make your trip more expensive.
In spite of the above, your pet will be as happy or even happier than you to be able to accompany you on an adventure of this magnitude, and you may even get a certified dog credential at the end. Several blogs, together with the Asociación Protectora de Animales en el Camino, offer you more specific information. You can also see the hostels that admit dogs in our guide.
TRAINING
As a joke, you could say that training can be done before, during or after the way.
If you have trained a little before leaving, so much the better. Particularly if you are not used to walking, wearing in your shoes is essential. It is also good to try the backpack to know if it is well adjusted, and to calculate the weight you are going to carry so that the route does not become a torment.
Training during this time it is the most usual. If you have not had time to train, you will have to adapt to the Way itself, so it is advisable that for the first days you plan short stages, at a slower pace, and gradually lengthen the distances as you feel stronger and more confident.
Training afterwards is also necessary. After the punishment, although it is normal to be euphoric when you get in shape, it is important to relax your muscles a little, as athletes do at the end of an intense effort, and that you don't go from doing everything to doing nothing. Besides, you certainly won't want to get out of shape, because the next Way will be on the horizon.
MOBILE PHONES
For pilgrimages of up to one month, roaming charges in Europe have not applied since 2017, so your calls will cost no more than your normal telephone tariff.
If you come from outside the EU, in order to avoid the increase in rates, especially for data downloads, the best solution is to buy a prepaid and rechargeable SIM card in Spain and/or Portugal. This way, you will be able to use the internet and make calls in the country for a decent price (5GB and about 30 minutes of calls cost about €25; some companies offer unlimited calls for €35–40).
The issue of international calls has been addressed lately with the widespread use of WhatsApp, which allows you to make free calls and video calls worldwide if you have Wi-Fi. You can also save on internet surfing if you use free Wi-Fi, a service that is becoming more and more widespread in accommodation, cafés, bars, restaurants, etc. In the end, you have the option of going to municipal libraries or cultural centres, where you can freely use a computer connected to a Wi-Fi network.
PAPER GUIDES
Paper guides have accompanied pilgrims since the birth of the printing press, with some authors having wide circulation in the past, such as Herman Künig in Germany (fifteenth and sixteenth centuries) or Domenico Laffi in Italy (seventeenth century).
At present, there are several prestigious guides that provide this service usually disclosed by language areas, and generally updated annually or every two years. If the update is delayed, the guides obviously lose value, especially because of the practical information, which varies constantly. The planning of stages will not vary greatly, though.
A paper guide, where you are able to make notes, will be a good memento of the Way, as the work of keeping digital records requires some attention in the medium term.
If you want the bestselling guide in Spanish published annually from 2004 for the French Way, you can turn to Anaya Touring, a good complement to this website and a souvenir of your trip to keep with the credencial (pilgrim's passport) and the Compostela. A similar guide is published every two years for the other Ways.
THE WAY APPS
Applications offer the same service as paper guides, but with the advantage that they have no weight because you bring them loaded on your mobile. They usually incorporate the higher or lower quality tracks on the Way that you have chosen. However, among pilgrims, there are not a lot of people from technological companies that walk the Camino regularly and are committed to the reality of the pilgrimage to update data. Therefore, you should analyse the product well before downloading it, as many applications are as outdated as paper guides, or even more.
With the ANDANTES application, we have committed ourselves not to disappoint anyone: each information sheet on a route or service reviewed includes the date of update. This way you will have a guarantee that most services do not offer.
HEALTH INSURANCE
If you are a citizen of the European Union, you can access public medical services in Spain and Portugal (health centres, outpatient clinics, emergencies, hospital care) by means of the European Health Insurance Card. Don't forget to apply for the card so that it is valid for the duration of your trip.
If you are coming from a country outside the EU, it is advisable to take out travel insurance to cover healthcare. For small problems or injuries, the service is often provided without any special requirements and although most likely nothing will happen to you, it is advisable to take precautions to avoid inconvenience and expense.
Insurance companies offer different options, from the most basic coverage upwards, but all of them cover a reasonable amount of possible medical, hospitalisation or pharmaceutical expenses in the event of an injury, illness or accident, and they often include transfers and compensation for changes in travel or cancellations.
You can take out insurance in your country before departure, but also with a Spanish company that sells a specialised policy for pilgrims, usually for periods of one week, half or the whole month. The most economical insurance, with coverage of up to €6000, ranges between €10 and €25, depending on the duration.
PURCHASING YOUR TRAVEL TICKET
If you already know the dates for your Camino walk, don't neglect to book your trip in advance, especially if you have to fly. As the date approaches, the price will go up. Some pilgrims leave the return open (more expensive), fearing that they will not be able to complete the route in the time they have estimated. More often than not, they are surprised and, except for unexpected mishaps, you will go faster than you had envisaged. Therefore, is likely that you will have a few days left at the end to visit Santiago, go to Fisterra and Muxía, or even move to other parts of Galicia without such a plan having been put in place earlier.
PREPARING THE EQUIPMENT
This advice is only for those who have never been out in the countryside to hike. The Camino de Santiago is the same in this respect as any other route, except for a few peculiarities, and everyone knows better than anyone else what they need.
In our opinion, a slogan coined by the architect Mies van der Rohe should preside over the preparation: less is more. The less weight, the more comfort, and the more simplicity at the start, the less complication later on.
It is very common for pilgrims to miscalculate the weight: at the first opportunity, they are forced to reorganise their backpacks and send a few kilos back home (a major expense under international mail) or to the post office cloakroom in Santiago. That is why it is worth paying a little attention to this matter.
A rule of thumb is that you should not exceed 10 per cent of your own weight. That is, if you weigh 60 kg, your backpack must not weigh more than 6 kg, and if your weight is 80 kg, no more than 8 kg. The truth is that fitness and habit are much more important.
Let us therefore look at the essentials (the basic and the indispensable). We referring to those that are carried according to taste or load capacity, and those that are often added, just in case, but that are not usually missed on the Camino.
The most important things: Backpack and footwear
Depending on the number of days you intend to walk, you should be thinking of a 35–45 litre backpack. This is certainly enough. There is no need for you to buy a brand name backpack. There are backpacks of good quality at affordable prices, but try them out first and see if you feel comfortable with them. They should be anatomically adapted to your height, constitution and weight. Nowadays, it goes without saying that they should have a good frame, padded straps and back, be a good fit for the kidneys and have a good perspiration system. Most will meet these requirements. It is also very important that it has a removable waterproof cover—otherwise you will have to buy it separately—and always have it to hand. We consider the distribution of the pockets to be very important, because you must be able to find the things you may need urgently: flip-flops, raincoat, water, food, guides or notebooks, sunscreen, hat, etc.
The following could be a good distribution of the luggage: the heaviest things at the bottom and against the back, but avoiding hard or angular objects in this area, and arranged as far possible in waterproof bags (hard plastic is better to avoid noise when handling them, equipped with some type of ventilation system), separating shoes, clean and dirty clothes, coat, towel and elements for cleaning, food, etc.
As for footwear, it will depend, above all, on the type of road and the time of year you are planning to walk. High-leg boots are the mountaineer's classic footwear. They appropriately hold the foot, avoiding sprains of the ankle on irregular surfaces. They are also the best boots to withstand water or mud. However, if it is hot, they can overheat the feet, and their stiffness makes them more uncomfortable. Medium-leg boots are a good alternative for the Camino, and they are widely used at present. If you get tired of the boots and you have to switch to other footwear along the way, carrying them in your backpack will constitute a noticeable overweight.
The alternative to boots are low-leg hiking shoes and sneakers, which prevent chafing at the ankle and are usually enough for spring and autumn. Their great advantage lies in their comfort, lightness and better transpiration, and so-called approach shoes integrate some elements of resistance, stability and the protection typical of boots. On paths without many complications, which are the majority, they are the perfect option.
Conventional sports boots, which are still seen on the Camino, are not recommended at all, as they are designed for sporadic use, very different from the intense use they will undergo on the Camino, and they lack the necessary reinforcements, sole grip and breathability systems for long journeys.
In sections with a lot of asphalt or concrete, or filled with earth—in short, very easy sections, such as most of the Galician sections—more and more pilgrims opt for trekking sandals. The downside of this option is that sand or small stones can always get between the sole and the sock. This not only causes discomfort and more stops than would otherwise be necessary, but also increases the risk of blisters. We recommend including a pair of sandals to alternate with boots or shoes. They will be suitable for use on days you are doing a lot of walking on the road and around towns and cities at the end of each stage.
We also recommend that you do not buy cheap footwear, but look for quality and a good heel adjustment, and always a size above your usual size (even one and a half) to prevent swelling of the foot. If you go to a store, let the experts advise you.
The soles must have a good air chamber and a good design for grip like Vibram, although there are even better alternatives. If the foot gets wet, you are guaranteed to get blisters. Therefore, Gore-Tex or similar membranes are usually applied for waterproofing. These membranes allow perspiration, but obviously they not 100 per cent effective, so if you are going to walk in the low rainfall season, their presence is not essential. Look at the toe and heel resistance, the weakest parts of the foot, and remember that you have to use or break in your footwear before going out on the Way, at least the distance of three or four stages (between 60 and 100 km).
To get to the showers and to walk around the accommodation you will also need flip-flops or rubber sandals, which will protect you from fungus. We don't think it is a good idea to use these sandals for the later walks, because they will end up very damaged and your feet will get dirty.
Some people also use typical Basque espadrilles with esparto grass soles, which are very healthy for the feet and more environmentally friendly, although we think that adding four pairs of shoes is carrying too much weight.
The essentials and the accessories
First of all, let us take an item of clothing that is not given too much importance but is critical: socks. As with the shoes, the choice will depend on the season. In this case, it is also more important to buy good technical and contrasting materials than to try to save money.
Socks usually have more than one layer (two or three), with a mixture of synthetic (polyamide, polyester, Coolmax, Lycra, nylon, acrylic) and/or natural (Tencel, wool) materials; for the winter, different proportions of merino wool are added, which is antibacterial and warmer. Cotton absorbs moisture, so it is not recommended, except for rest time and small promenade.
Seams should be flat to avoid chafing. The toe and heel reinforcements should also be checked, with a need for good cushioning in the heel. Choose the exact size you need so that they do not form folds and are not overtight at the top of the leg (a very common defect). Avoid homespun wisdom such as wearing two thin pairs, one on top of the other, because you will end up causing chafing and, above all, burning your feet. Keeping the sweat away from the skin to avoid blisters is the most important thing.
As for underwear, panties or briefs, although cotton prevents chafing, it absorbs sweat; synthetic material, if it is not suitable for sport, has the opposite property. The problems generated by chafing are the most relevant, especially when it is hot and we sweat a lot. The most affected part will be the groin. Therefore, we should avoid protruding seams and seek out fabrics that breath easily, including adjustable Lycra mesh or polyester fabrics, which will also dry quickly when washed. Seamless models, which are adapted to the body due to their elastane content, meet these conditions and can be worn without trousers.
Since we are talking about trousers now, it may be necessary to bring some long and some short in order to alternate according to the time, or even bring some convertible trousers. Make sure that the trousers have several pockets and are made of a quick-drying material. For accommodation or the city, it is not a bad idea to also have some sweatpants, medium or short. The range in this field in vast.
Another essential part of your attire is T-shirts, usually made of polyester or other quick-drying synthetic material. Some people prefer hiking-type shirts to protect the neck better and be a little more well-dressed. If you don't want to sleep in the same walking shirt, you will have to think about wearing a separate one for the night, and the same goes for the bottoms.
A sweatshirt or trekking sweater, lighter or warmer depending on the season, is enough as a warming garment, and a spare would be appropriate while airing or washing the first. If you walk in winter, you will need a polar lining.
A raincoat or windbreaker may be sufficient in summer, but it is more common to take a cape or poncho that also covers the backpack, made of water-repellent fibre and not excessively heavy. This garment can make you sweat, so it should be chosen carefully so as not to end up soaked inside as if you've been in a rainstorm. There are also light and very practical waterproof trousers and gaiters, which protect the legs and prevent water from entering the boot through the socks. Some people also carry a folding umbrella; you can find very small and light umbrellas, which can be practical on days of persistent rain, or in summer storms on evening walks.
In hot weather it will be tempting to take a dip in rivers, lakes, the sea or pools, so you should not forget your swimsuit.
On the head, it is good to wear a scarf to protect the neck from burns and the throat from the cold. A good lightweight alternative is a kerchief: these are lightweight and wash well. And, of course, you need a hat, if possible, with a brim wide enough to protect you from the sun, in the style of the classic pilgrims; we prefer these classic hats to the casquette with built-in neck protection. In very chilly times, and if you are sensitive to the cold, think of a woollen hat with earmuffs and of a pair of gloves.
Besides clothes, another element that increases weight, but is nowadays essential, is the sleeping bag. It is true that more and more hostels are offering bedding in the price, and many include disposable or cloth sheets with a blanket or duvet, but in the simplest accommodation, you will have to use a sleeping bag.
The materials are usually synthetic, and may include a feather filling. Sleeping bags are classified seasonally: two-season bags, the lightest, are really only good for warm weather; three-season bags are best for spring and autumn; while four-season bags, for temperatures below zero, make no sense on the Camino. Depending on the above, a 500g bag might be enough for the summer season. In intermediate seasons, you will have to check the minimum temperature supported (the comfort temperature shown on the bag is a valid reference.) In any case, in cold places, heating will be provided when necessary, so in no case should the bag weigh more than 1 kg. We prefer the rectangular to the mummy models for comfort as the latter are more suitable for mountain crossings. Finally, it is worth mentioning that in summer there are pilgrims who only carry a sack sheet, and if they are cold, they use the blankets available at hostels. This way they can avoid carrying a lot of weight.
We find it useful to carry a pillowcase made of cloth or disposable material because it weighs very little and avoids hygiene problems. To deal with snoring in common rooms, earplugs are strongly recommended.
Today, with the mobile phone, a multi-functional tool, you no longer need a watch, alarm clock, GPS, camera (except for photographic virtuosos) or a torch. Activate the geolocation in case you run into any problems. Although the mobile can also be useful, it is good to have a notebook with a pen and/or pencil to make quick notes, just in case your battery runs out. Don't forget the charger, of course. And if you want a classic source of information, use a paper guide: the completed stages that some pilgrims strip from the guide would make a good souvenir (this will only reduce your load by a few grams, though).
Now we turn to the traditional pilgrim emblems. Among them are the scallop shell, which is usually tied or sewn to the backpack in a visible place; the pumpkin, which has practically disappeared unless it is very small and decorative; and the pilgrim staff. You might get a pilgrim staff on your way through a forest at the beginning of the route or get it in a shop with its iron tip. It is still very useful, although some people consider it showy and heavy, as it slightly exceeds the height of the head. If it is well used, it helps to tilt the body and serves as a support in ascents and descents. It also helps to avoid slipping and to scare off dogs at a sensible distance, or a potential robber, and it even allows us to pick fruit from a tree.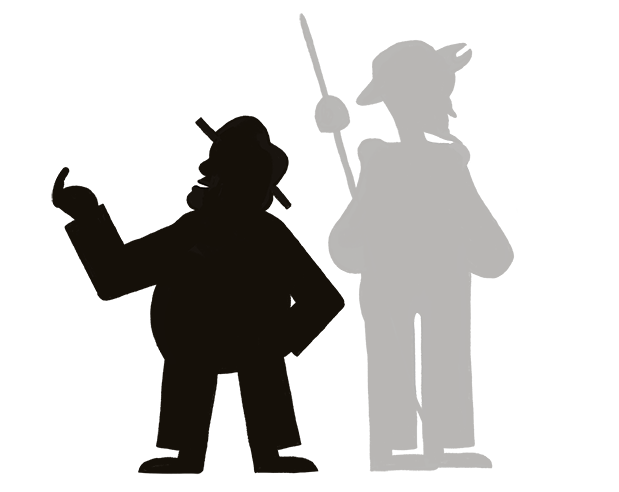 Be careful with staffs and sticks. They are controlled by the devil! Don't be like Jean-Baptiste Lully, the musician from Versailles who died from gangrene having struck his foot with his long conducting staff by vigorously setting the beat during a performance. Vade retro!
Canes are a good replacement for the pilgrim staff. They can also be made from wood and are rigid and robust. Another replacement could be the telescopic walking stick, which is easier to store and transport, or even two for those who have a lot of practice in using them and know how to control them properly, because when there are slopes the back has a greater tendency to hump up. These canes can disturb a walker's natural balance and cause discomfort or injuries to wrists, elbows and shoulders. They can be a real nuisance on the paved sections as well, which are abundant, their tips being designed for the soft ground.
We leave elements related to food to the end. A small canteen for water is essential. There are many fountains and bars on most of the paths, but this is still a necessary element, preferably made of metal for hygiene, or of rigid plastic. One litre is enough, but if you are walking in very hot weather one day, buy small bottles too. If you want to bring wine, as the pilgrims used to do in the past inside a pumpkin, you can use a handmade goatskin boot: these are still produced in many places in Spain.
And this boot hanging to the saddle-bow, whatever they may say, you are such an object of worship for me and I love you so much that I lavish a thousand kisses and a thousand hugs on you and I raise you above the clouds fearing you may collect the water. (El Quijote de la Mancha)
Although a multipurpose Swiss Army knife is most practical, any knife will be a good all-purpose companion for the pilgrim, to which you can add a basic set of travel cutlery (spoon, fork, butter knife), and perhaps a stainless-steel ladle suitable for making tea or heat up soup. Some people take a mini-fridge with them or a portable pantry to preserve food left over from the day before or to consume on the way. This can be replaced by a small thermal bag, but really it is not worth carrying—better to consume as you go. Just take a sturdy cloth shopping bag that is not too big. In some hostels and lodges, you will need a padlock to use the lockers, and they are not always available to rent.
Where cleaning and toileting are concerned, you will need to carry a toilet bag, where you can keep what you need, always in travel sizes to be replaced along the route: shampoo or all-in-one shower gel, toothpaste and toothbrush, dental floss, gel or foam and razor, tampons and sanitary pads deodorant, tweezers, comb, nail clippers, moisturiser, etc. The towel should not be too big, and always made of microfibre, which absorbs well and dries quickly.
You may need a repellent for insects, especially for mosquitoes, and if you want to be very careful you can also carry an anti-bug spray. Although you will be able to get what you need in pharmacies on the route, in terms of a first aid kit you might want to bring painkillers, dressings or needle and thread for blisters, small scissors, band aids, silk tape, gauze, Vaseline, talcum powder or anti-friction creams, rosemary alcohol, a disinfectant, an antihistamine and some contraceptive method. Anyone who is on medication will have to remember to take their usual dose.
Don't forget your sunscreen. It is a good idea to bring a bottle to refill, with a smaller dispenser always to hand, as well as tissues; for an emergency in the middle of the field, you may also need some toilet paper. Some people cannot walk outdoors without sunglasses. For days with poor visibility, when you have to walk on roads, carry reflective tape, to be placed on the backpack.
To wash your clothes, you may need some detergent or a bar of Lizard soap or similar, as they are not provided or sold everywhere along the way, although it is possible to use your shower gel. It is also good to take some mini-pegs for clothes (not always available), a clothesline (in case it is missing, or when you have to do it in the bedroom) and some safety pins, practical to hook clothes that have not yet dried from the day before on the outside of the backpack.
Outside the backpack, it is advisable to carry the most essential items in a bum bag, front rucksack, or shoulder bag, according to your taste and habits: such items include documentation, bank or insurance cards, cash, a mobile phone, perhaps a notebook or something to write in, a compact camera, etc. If you bring more money, there are various systems such as belts or inner bum bags. And don't forget your credencial [pilgrim password].
Things you should not bring with you
A mat no longer makes any sense on the Camino, because nowadays you don't usually sleep on the floor. If you are forced to do so in a sports centre or emergency accommodation, they will provide you with mats.
Head torches are not recommended because we think that walking at night is complete nonsense.
Also, don't bring too much clothing, thinking of being well-dressed, nor beauty products. Some people think that after walking ta stage you go back to real life every afternoon and you have to look great. But this is a more comfortable plan which does not differ greatly from going in a chauffeured car.
Carrying cooking utensils for the sake of having greater autonomy is, we believe, too much of a sacrifice. If you arrive at a hostel that doesn't have cooking utensils, then you can eat a salad or a snack, which for one day can even be healthy. We have even seen people with portable kitchens: we make no comment.
We have already indicated that there is no point carrying spare food, such as canned food. You are not going to walk through the jungle and you will be able to buy almost everything you need every day.
The same goes for the idea of carrying a super first aid kit, thinking about the thousand dangers that lie ahead. Consider that when you go out for a weekend to walk in the countryside or the mountains, you often don't carry anything at all.
It is also worth thinking that every two or three days you will have to do the laundry, a light wash to remove sweat. Most accommodations have a washer and dryer, which you can use on rainy days in agreement with other pilgrims to save time and energy. Therefore, you should not worry too much about washing.
That said, we recommend that you bring with you the following items:
– A 35–40 litre backpack
– A pair of boots, shoes or trekking slippers
– A pair of trekking sandals
– A pair of shower shoes
– Four pairs of socks
– Three or four spare sets of underwear (panties, bras, underpants)
– Convertible trousers (or one long pair and one short)
– Tracksuit or lightweight trousers
– Three or four T-shirts and/or shirts
– One set of sleeping clothes
– Two sweatshirts and/or pullovers
– One polar fleece (if it is going to be cold)
– Poncho or raincoat
– Waterproof over-trousers and/or leggings
– Hat
– Kerchief or scarf
– Swimsuit
– Sleeping bag (or sheet bag in summer)
– Pillow case
– Mobile phone (and camera?)
– Pilgrim staff, wooden or telescopic cane
– Curved scallop shell
– Canteen
– Multipurpose knife, cutlery, can opener…
– Stainless steel pot
– Toilet bag with toilet products
– Microfibre towel
– Mini first aid kit
– Sunscreen
– Vaseline or anti-friction cream
– Tissue, toilet paper, etc.
– Mini-backpack, bag or bum bag
– Credencial [pilgrim password], documentation, cards, money
Now you should check if your backpack weighs between 6 and 8 kg. If it is close to 10 kg or more, you should release ballast, except if you are used to lifting weights or you are walking in the cold winter.